A perfect blend of Indian artisans with the intricacy of Banarasi fabric that resembles the Indian art and culture in a more precise way. Welcome the piousness of Banarasi craft at your home and feel the exotic comfort.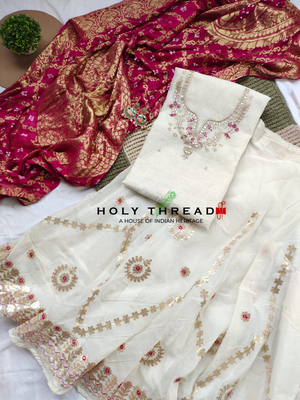 Pure and pious
Gitanjali collection
A pragmatic collection of handcrafted product with the piousness of fine fabric in it. The simulation of zari and gota handwork enhance the beauty of the dress and its delicacy. This makes our geetanjali collection is a must choice for coming festive season
Shop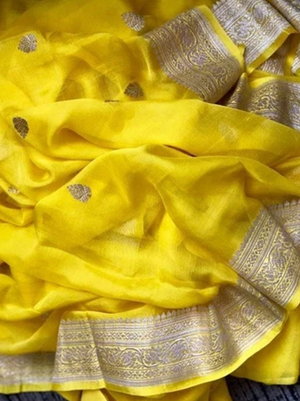 Homely touch
Wedding collection
With the simulation of a perfect Indian wedding, astonished the look with pure Banrasri wedding collection. The untouchable blend of georgette and chiffon fiber with zari work on it.
Shop This
Legacy of Banarasi thread
Splendid art of Banarasi fabric

Banaras fabric is known for its empirical touch and rich texture that gives an astonishing feel while it is worn. The holy thread comes with the idea of pure and piousness of Banrasi fabric that has a spiritual value all across. From saree to suit, it is perfectly fitted for every age group of women that has believe in royalty and comfort. In the holy thread saree collection, we focus upon the embroidery and zari work with silver and golden thread work
These Banarasee silk sarees took months in making and the wait is worth it. Every drap of saree is designed precisely with the elegance of the royal touch of the Mughal era. The handicrafts work with small detailing gives it a lavish look that enhances your beauty and makes you look flawless. 

Every thread is tied in such a way that it is worth seizing the moment in it. The best part of wearing the Banarasee saree is, it never goes out of fashion. this is adorable everywhere and has intricacy to grab the attention of everyone. 
SHOP NOW
Trending Collection Form Banaras
Exclusive collection of holy Banaras attire
Commemorate of hand-weaved fiber
Hand weaved clothes are welcomed everywhere that has an astonishing charm of enhancing the beautiful attire. The Indian handicraft is preferred for its elegant and unique artisans. The large unit or group works together to make the attire more commemorative. The more you look at the artisan, the more you get amazed with its sophistication and snug refinement. It took you a bit closer to the Banaras and their rich culture. The best part of these sarees is their perfection and comfort level that makes you feel comfortable in your skin. In this collection, we have, perfect suitable attire for every woman that seizes every eye on them. Shop with the holy thread exclusive collection and give everyone one more reason to adore you. 
Shop Now
The sophistication of Indian artisans
The refinement of unstitched fabric
Every woman has their own taste of ethnic wear and wants to style it in their unique manner. With our unstitched suit collection, you can get it to stitch with your favorite boutique or tailor that knows you a bit more perfectly. From Chikankari to ikkat suits, we are all here to serve you the best that suits you in well price manner. Fell the perfection of Banrasi suits and its unique design with full-length dupatta. The wide border and deliberate prints are flaunted the Indian beauty in its unique way. We believe in quality, not in quantity, and assure you to deliver the best quality suits to your doorsteps. 
Explore Now
What makes us distinct from others?